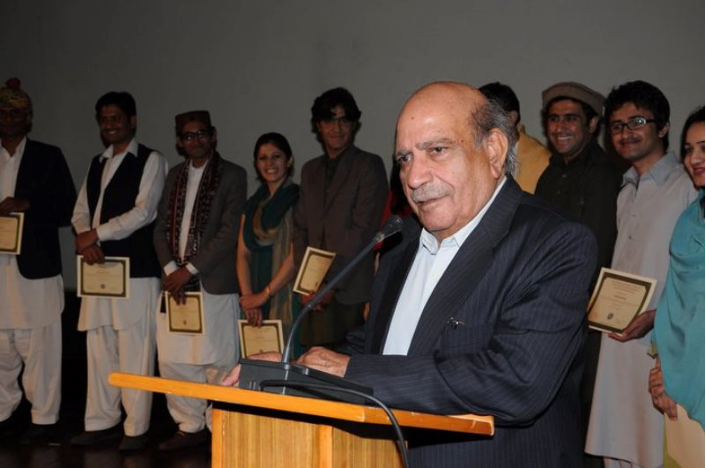 Ibn Abdur Rehman was born in Haryana in British India in 1930. He was graduated from Punjab University, Lahore. I. A. Rehman was the pioneer of Human Rights activism not only in Pakistan but in the entire region. In this regard, the Human Rights Commission of Pakistan (HRCP) termed him a titan of human rights and said his integrity, conscience, and compassion were unparalleled. He was a principled journalist, author, and Activist.
I.A Rehman received many awards including;
Nuremberg City's International Human Rights Award in 2003
The Magsaysay Award for Peace in 2004.
The main issues that he worked on throughout his professional life including fundamental rights of women, children, and religious and ethnic minorities, enforced disappearances, the death penalty, and Bonded labor.
He was a people's person; he would reach everywhere till the end. He loved people and treated them with immense respect and they loved him doubly.
He passed away on 12th April, 2021 in Lahore.
Related Links:
In 2002 Dr. Fouzia Saeed recorded different aspects of I.A. Rehman Sahab's life and work, with the help of his son, Ahmar Rehman. These are not professionally made videos, but were recorded more in a personal capacity. Now that he is not among us any more, we feel that it is important for us to share them with everyone. These videos have good information for our youth, even adults, to learn about him and how each of us has the potential to do what all he did.
I.A. Rehman passed away on April 12, 2021. Mehergarh organized two references for him on April 14 & 15, for some of his family members and people close to him, to get together and share their experiences with him, talk about him, as due to the COVID-19 pandemic, getting together personally was not a responsible option.
These references were hosted by Dr. Fouzia Saeed. His family members who participated include his son: Ahmar Rehman, daughters: Seher Rehman and Ambreen Rehman and his grandchildren: Hatim, Isa, Iman and Alizae. Others present, included Dr. Mehdi Hassan, Senator Mian Raza Rabbani, Dr. Kamran Ahmad, Ghazi Salahuddin, Nadeem Fazil, Bushra Khaliq & Maliha Husain. A story by Mehr Sagar and a poem by Kishwar Naheed were also included in the first reference. Those who participated in the second reference included former Senator Barrister Aitzaz Ahsan, former Senator Farhatullah Babar, Ijaz Gul, Rafiq Jaffar, Tanveer Jahan, Niaz Nadeem and Zafarullah Khan.
The links of the references are shared below so that you can listen to different people's experiences that show us different sides of his personality.
Reference for IA Rehman | 14 April, 2021 (Part 1)